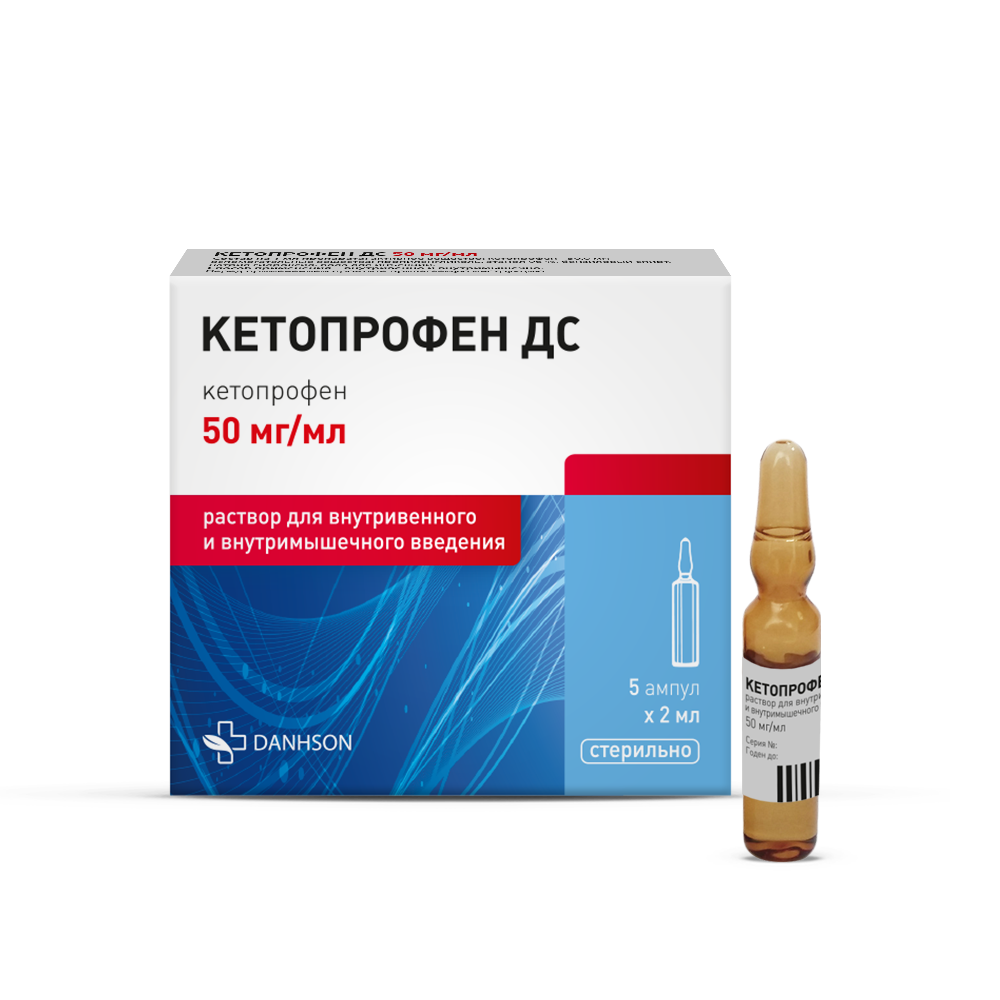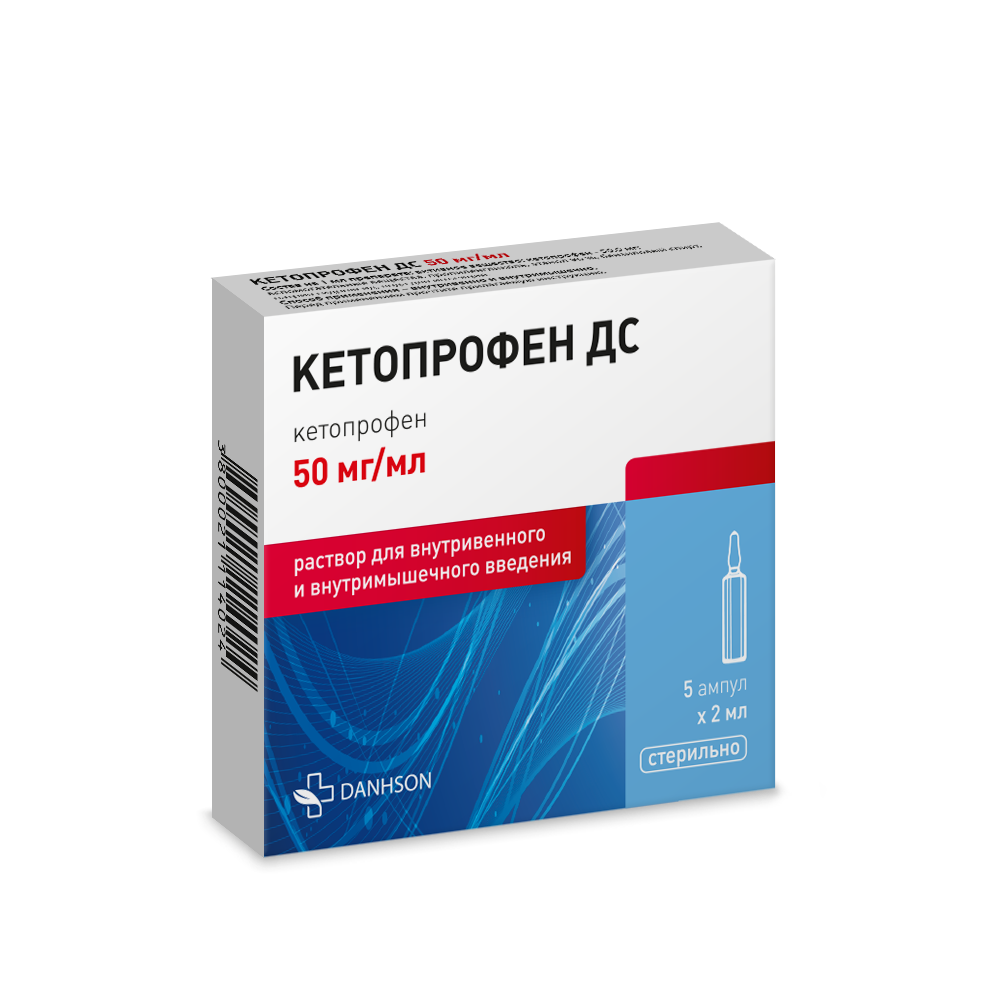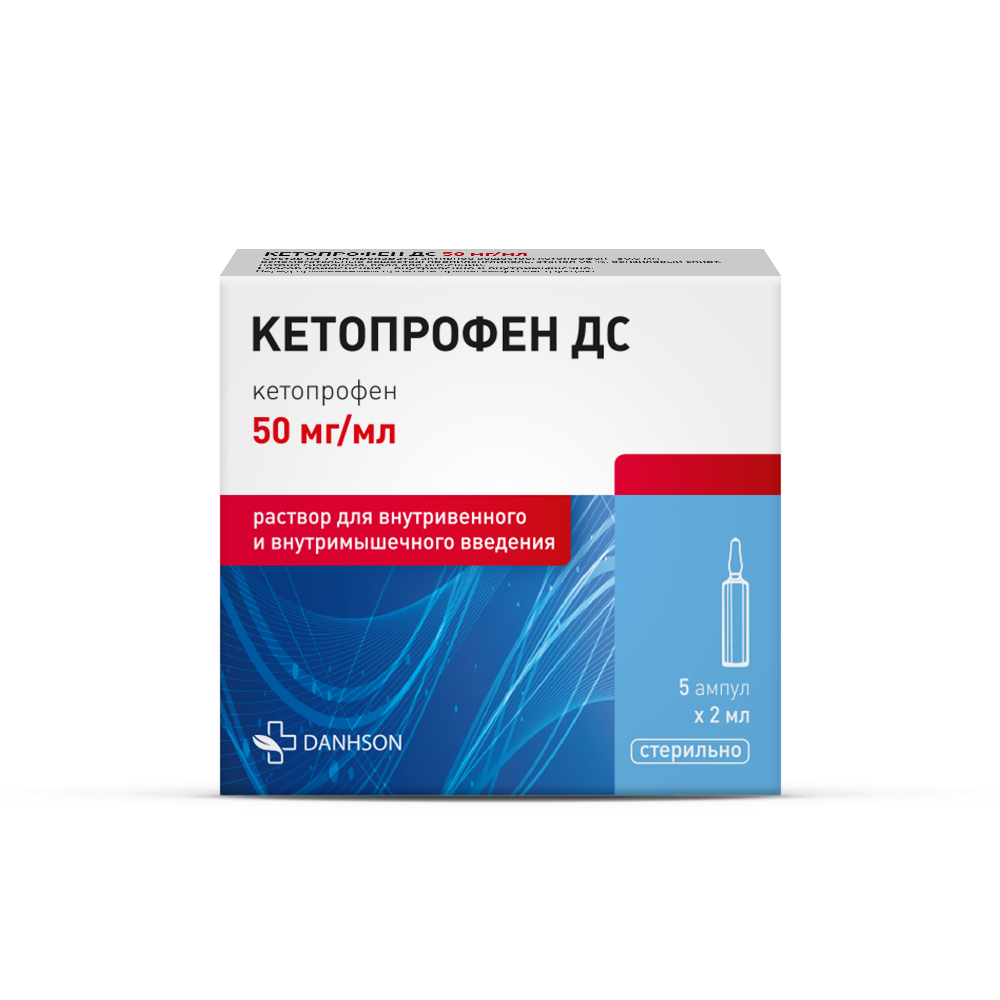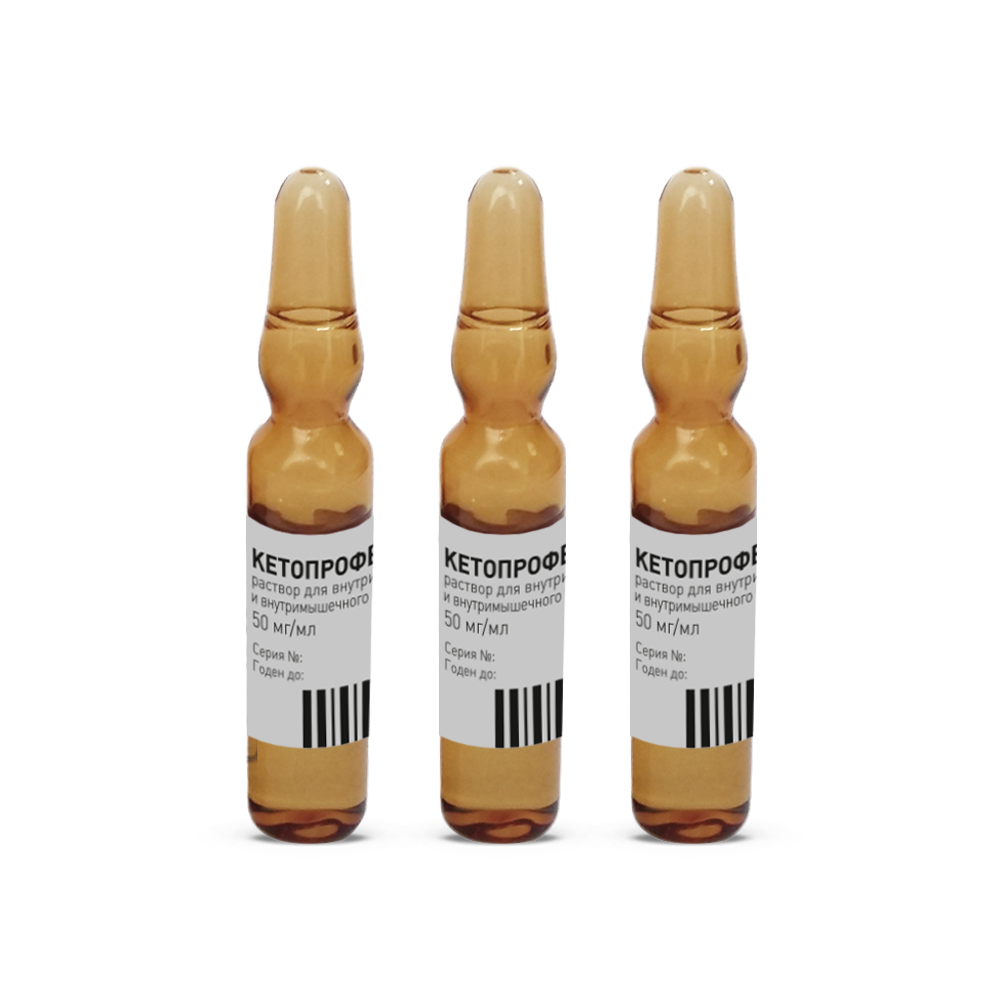 | | |
| --- | --- |
| | Drugs |
The solution for intramuscular administration of Ketoprofen DS contains the active substance ketoprofen and is a non-steroidal anti-inflammatory agent with anti-inflammatory, analgesic and antipyretic effect. It is used for symptomatic therapy of pain and inflammation. Dispatched by prescription from a doctor. It is a generic in the active substance of drugs known under the trade name Ketonal, Flamax.
Composition
Active ingredient: Ketoprofen - 50 mg; excipients: propylene glycol - 400 mg, ethanol 96% - 100 mg, benzyl alcohol - 20 mg, sodium hydroxide - to bring pH 7.0 ± 0.5, water for injection - up to 1 ml
Indications / Application Notes
The drug is intended for symptomatic therapy, reducing pain and inflammation at the time of use, does not affect the progression of the disease. Inflammatory and degenerative diseases of the musculoskeletal system: rheumatoid arthritis, seronegative arthritis (ankylosing spondylitis - ankylosing spondylitis, psoriatic arthritis, reactive arthritis (Reiter's syndrome)), gout, pseudogout, osteoarthritis. Pain syndrome: tendonitis, bursitis, myalgia, neuralgia, sciatica; headache; post-traumatic and postoperative pain syndrome; oncological pain syndrome; algodismenorea.
Contraindications
hypersensitivity to ketoprofen or other components of the drug, as well as salicylates or other NSAIDs; - full or incomplete combination of bronchial asthma, recurrent polyposis of the nose and paranasal sinuses and intolerance to acetylsalicylic acid or other NSAIDs (including a history); - erosive and ulcerative lesions of the gastrointestinal tract and duodenum; - inflammatory bowel disease (ulcerative colitis (exacerbation), Crohn's disease (exacerbation); - hemophilia and other blood coagulation disorders; - decompensated heart failure; - gastrointestinal, cerebrovascular or other bleeding (or suspected intracranial bleeding); - severe renal failure (creatinine clearance less than 30 ml / min), progressive kidney disease; - severe liver failure (10-15 points on the Child-Pugh scale) or active liver disease; - condition after coronary artery bypass grafting; - confirmed hyperkalemia; - children's age (up to 18 years); - chronic dyspepsia; - pregnancy III trimester; - period of breastfeeding. Carefully Anemia, asthma, alcoholism, tobacco smoking, alcoholic cirrhosis of the liver, hyperbilirubinemia, liver failure, dehydration, sepsis, chronic heart failure (CHF), edema, arterial hypertension, blood diseases (including leukopenia), stomatitis, coronary heart disease (CHD), cerebrovascular disease, dyslipidemia / hyperlipidemia, diabetes mellitus, peripheral artery disease, chronic renal failure (CRF) (CC 30-60 ml / min), a history of gastrointestinal ulcer (GIT), the presence of Helicobacter pylori infection long-term use of NSAIDs, severe somatic diseases, simultaneous use of oral glucocorticosteroid drugs (GCS) (including prednisone), anticoagulants (including warfarin), antiplatelet agents (including clopidogrel), selective reuptake inhibitors serotonin (including citalopram, fluoxetine, paroxetine, sertraline), advanced age.
Mode of application
Intravenously, intramuscularly. Intramuscular injection: 100 mg (1 ampoule) 1 - 2 times a day. Intravenous infusion of ketoprofen should be carried out only in a hospital setting. Short intravenous infusion: 100 - 200 mg (1-2 ampoules) of ketoprofen, diluted in 100 ml of 0.9% sodium chloride solution, is administered within 0.5 - 1 hour; reintroduction after 8 hours is possible. Continuous intravenous infusion: 100-200 mg (1-2 ampoules) of ketoprofen diluted in 500 ml of infusion solution (0.9% sodium chloride solution, lactate-containing Ringer's solution, 5% dextrose solution), is administered within 8 hours; reintroduction after 8 hours is possible. Ketoprofen can be combined with central analgesics; it can be mixed with opioids (for example, morphine) in one bottle, cannot be mixed in a bottle with tramadol due to precipitation. Parenteral administration of the drug can be combined with the use of oral forms (tablets, capsules) or rectal suppositories. The duration of therapy is 48 hours (2 days). The maximum dose of ketoprofen is 200 mg / day.
Side effects
According to the World Health Organization (WHO), unwanted effects are classified according to their frequency of development as follows: very often (≥1 / 10), often (≥1 / 100, <1/10), infrequently (≥1 / 1000, < 1/100), rarely (≥1 / 10000, <1/1000), very rarely (<1/10000), the frequency is unknown (the frequency of occurrence of phenomena cannot be determined based on available data). From the hemopoietic system and lymphatic system: Rarely: hemorrhagic anemia, leukopenia; Frequency unknown: agranulocytosis, thrombocytopenia, bone marrow dysfunction. From the immune system: Frequency unknown: anaphylactic reactions (including anaphylactic shock). From the nervous system: Infrequently: headache, dizziness, drowsiness; Rarely: paresthesia; Frequency unknown: convulsions, violation of taste sensations. From the senses: Rarely: blurred vision, tinnitus. From the cardiovascular system: Frequency unknown: heart failure, hypertension, vasodilation. From the respiratory system: Rarely: asthma, nosebleeds, laryngeal edema; The frequency is unknown: bronchospasm (especially in patients with hypersensitivity to NSAIDs), rhinitis. From the gastrointestinal tract: Often: nausea, vomiting, dyspepsia, pain in the abdomen; Infrequently: constipation, diarrhea, bloating, gastritis; Rarely: peptic ulcer, stomatitis; Very rarely: exacerbation of ulcerative colitis or Crohn's disease, gastrointestinal bleeding, perforation. On the part of the liver and biliary tract: Rarely: hepatitis, increased levels of "liver" enzymes and bilirubin. On the part of the skin: Infrequently: skin rash, itchy skin; Frequency unknown: photosensitivity, alopecia, urticaria, angioedema, erythema, bullous rash, toxic epidermal necrolysis. From the urinary system: Very rarely: acute renal failure, interstitial nephritis, nephrotic syndrome, abnormal values of indicators of renal function. Other: Infrequently: swelling, fatigue; Rarely: weight gain.
Release form
Solution for intravenous and intramuscular administration of 50 mg / ml. 2 ml solution in a dark glass ampoule type I; 5 ampoules in a blister; 1 blister together with instructions for use are placed in a cardboard box.
Storage conditions
Store at a temperature not exceeding 25 ° C. Keep out of the reach of children.
Manufacturer
Vetprom AD, Radomir, 2400,St. "Otets Paisiy" 26, Bulgaria